Broadband Task Force
Office of Governor Mike Dunleavy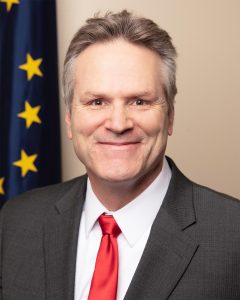 On the heels of a global pandemic, we see the critical role that the internet plays in nearly every part of life and the importance of good connectivity for every Alaskan. With significant funding on the way to Alaska, this task force will provide my administration with valuable recommendations on how to best get Alaskans connected with high speed, affordable internet.
The work of the task force has concluded.
**Click to read the final report**
Purpose:
The Governor's Task Force on Broadband is composed of stakeholders from all across Alaska who are committed to closing the digital divide in the Last Frontier. They expect to produce their findings by November 1, 2021.
The task force has been directed to:
Identify and complete a needs assessment of the "gaps" in the current broadband network deployment. Identify communities most in need of upgraded or new infrastructure. 
Provide recommendations for a buildout plan to close remaining gaps and bring high-speed broadband to all Alaskans. 
Evaluate all technologies that are used to provision broadband, identify and assess the pros and cons of each as they pertain to connecting all Alaskans with high-speed connectivity. 
Assess the hurdles to broadband investment and deployment. Make recommendations on how the state can play a role to eliminate them. 
Provide recommendations for a state repository of broadband information and expertise that does not increase the state budget. 
Identify and lay out recommendations of policies and guidelines for state participation in broadband infrastructure development and ongoing operations. 
Recommend program-based guidelines or rules for equitable use of state funding in broadband infrastructure development. 
Provide a report and summary of findings and recommendations.
Founding Documents:
For Public Comment or Questions: