Alaska Governor Mike Dunleavy yesterday signed House Bill 308 and Senate Bill 74 – two major pieces of legislation providing for expanded unemployment benefits in light of the COVID-19 outbreak and doubling minimum internet speeds at Alaska's schools.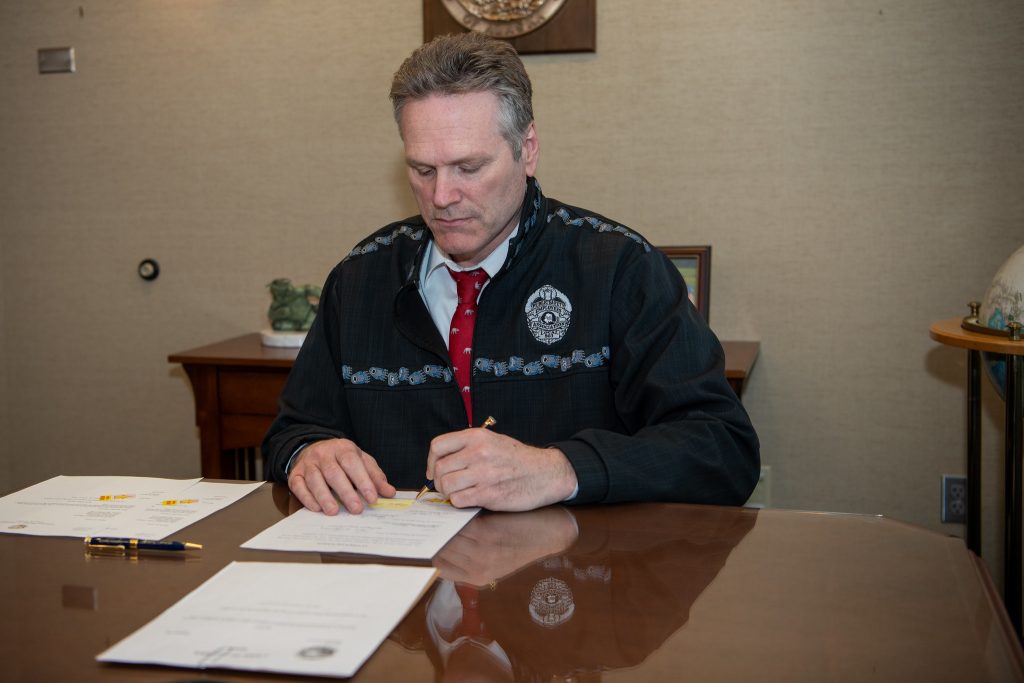 Governor Mike Dunleavy signs HB 308 and SB 74 in his Anchorage office on March 25, 2020. Click here for more photos.
House Bill 308 aggressively expands unemployment insurance benefits by waiving the one-week waiting period, increasing the weekly benefit for dependents from $24 to $75 per week, and protecting workers affected by COVID-19 and the associated health mandates. The legislation aligns with the emergency directives adopted by Governor Mike Dunleavy, and President Donald Trump.
"Last week, I called for an aggressive expansion of unemployment benefits to help hardworking Alaskans suffering from the economic impacts of the COVID-19 outbreak," said Governor Mike Dunleavy. "This bill represents a big win for Alaska's workers. I thank the Legislature for taking this important first step and look forward to enacting additional relief soon."
"HB 308 gives my team in the unemployment division the needed tools to be flexible and to expedite much needed payment of benefits to impacted Alaskans. Passage of this legislation was a collaborative effort," said Dr. Tamika L. Ledbetter, commissioner of the Alaska Department of Labor and Workforce Development.
Senate Bill 74 provides a strong positive impact on the educational experience for teachers and students in rural school districts that experience extremely high costs for internet. This legislation increases the minimum internet speed for all of Alaska's schools from 10 megabits per second (Mbps) to 25 Mbps and will benefit 168 schools and 30 school districts.
"This legislation will greatly enhance the delivery and quality of education to Alaska's students and expand access to affordable internet for schools," said Governor Mike Dunleavy. "I thank Senator Hoffman for his efforts in passing this invaluable legislation."
"Senate Bill 74 is another demonstration of the Legislature's and Governor Dunleavy's commitment to rural Alaska," said Department of Education and Early Development Commissioner Dr. Michael Johnson. "A special thanks to Senator Hoffman for his tireless advocacy for students, particularly in rural schools. I also thank Governor Dunleavy for taking time to sign this bill so quickly as part of his effort to add additional support for students during our response to the COVID-19 crisis."
For the latest information on Alaska's response to COVID-19, please visit http://coronavirus.alaska.gov.