January 23, 2018 (Juneau, Alaska) – Alaska Governor Michael J. Dunleavy today introduced a suite of crime-fighting bills to repeal and replace SB91 and close a series a loopholes that have allowed criminals to prey on Alaska's most vulnerable. The package represents the next step in fulfilling a promise made to repeal and replace SB91, which took away critical discretion from judges and eliminated tools for prosecutors and law enforcement to properly respond to Alaska's crime wave.
The four bills focus on the following categories: (1) Sex Offenses, (2) Classification and Sentencing, (3) Pretrial (i.e., Bail), (4) Probation and Parole.
Sex Offenses:
Alaska continues to have unacceptable rates of sexual violence.  We must strengthen our laws to hold sexual predators accountable for their actions. The bill:
Closes a loophole identified in the recent Schneider case by making unwanted contact with semen a sex offense – increasing possible sanctions and providing authority for appropriate monitoring.
Increases penalties for sexual predators who target our children.

Increases the penalty for Sexual Abuse of a Minor in the Third Degree when the age difference between the offender and victim is at least 6 years.
Makes solicitation of a minor a felony in all circumstances.
Makes indecent viewing or production of a picture a registerable sex offense if it involves a child.

Responds to court decisions related to sex offenses to ensure Alaska's laws do not encourage sex offenders to come to Alaska.

Among other things, requires a person to register as a sex offender in Alaska if they are required to register in another state.

Prohibits a person from repeatedly sending unsolicited images of genitalia to another person.
Classification and Sentencing:
SB91 reduced classifications and sentencing for numerous offenses, including drug trafficking, burglary and other predatory crimes. The bills works to:
Strengthen Alaska drug laws.  Drug seizures are increasing every year and the amount of illegal drugs fueling the opioid epidemic is unacceptable.

Incentivizes drug treatment by making it a felony to possess controlled substances.
Ensures that we have significant incarceration periods for those engaging in drug trafficking.  (SB91 lowered all sentences for drug trafficking).

Increase all sentencing ranges that were reduced under SB 91 (felony and misdemeanor) – ensuring judges can impose the appropriate sentence under the circumstances.
Creates a new crime of terroristic threatening so that law enforcement may act sooner when a person threatens to harm others.

Current law has significant gaps which makes it difficult to intervene before a person takes a substantial step towards actually causing the harm threatened.

Creates a felony for unauthorized removal of ankle bracelet (EM) during pre-trial and post-conviction.
Increases the maximum length of probation to ensure offenders are sufficiently monitored.
Pretrial (Bail):
The 'catch and release' system that has emerged in Alaska must end.  We need to make sure that judges are releasing people on bail in a safe and secure manner, while also making sure those who violate bail are going back to jail. This bill:
Strengthens the bail statutes to ensure that judges are applying the correct presumptions for bail release.
Gives judges discretion to decide if someone charged with a crime should be:

released on their own recognizance;
placed on electronic monitoring;
released to a third party custodian; or
monitored by DOC.

This bill also seeks to increases efficiencies by encouraging the courts to increase the use of video-teleconferencing for ALL pre-trial hearings
The bill also ensures pre-trial release does not inappropriately influence the ultimate sentence by eliminating credit towards a jail sentence from pre-trial electronic monitoring.
Probation and Parole:
Governor Dunleavy has also introduced legislation to strengthen the tools necessary to address those probationers who abscond from Alaska or otherwise violate probation. The bill:
Eliminates caps on the amount of time that can be imposed when an offender violates probation.
Returns discretion to judges to be able to adequately address the wide variety of original crimes committed as well as the variety of technical violations.
Adjusts the Earned Compliance Credit to incentivize good behavior on probation (a change from a 30 for 30 system to a 3 to 1 system) – aligning the State of Alaska with recently passed federal legislation.
Returns our parole system to its previous structure to ensure the parole board is not overwhelmed and those that are released on parole are good candidates for release.

Parole Eligibility – return to restricting what crimes are eligible for discretionary parole such restricting:

those sentenced within the presumptive range for A felonies,
inmates with prior felonies and
sex offenders.

Parole release factors – to ensure that those individuals who are released on parole are safe to be released.
Eliminate good time credit for offenders who are on electronic monitoring.
Key Statistics:
As detailed in the Governor's State of the State Address, everyone in Alaska has been affected by crime. Over the past 5 years, crime trends in Alaska have skyrocketed and our rates of sexual assault are the highest in the nation.
Alaska's rate of sexual assault (132 cases per 100,000 people) is five times higher than that of New York City (28 incidents per 100,000 people.
According to the Department of Public Safety's Uniform Crime Report (Aug 2018):

Overall crime rate is up 26% over the past 5 years
Violent crime rate up 35% over the past 5 years
Property crime rate up 23% over the past 5 years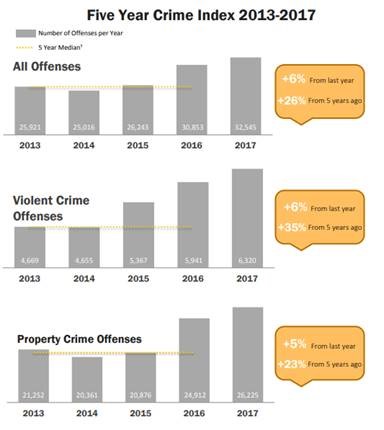 Key Quotes on Crime from the Governor's State of the State Address:
"There is a lot that government should not do, cannot do, or does not do well. But the most important thing a government must do is keep its people safe." – Governor Michael J. Dunleavy
"To law-abiding Alaskans, I say this to you: I care if your house is burglarized. I care if your car is stolen, and I care if your loved ones are threatened." – Governor Michael J. Dunleavy
"We will repeal and replace SB 91.  A series of bills and initiatives to be introduced tomorrow will not only roll back SB91, but will help Alaska turn the corner to a safer tomorrow." – Governor Michael J. Dunleavy
"But let me be perfectly clear. If you are a criminal, this is going to be a very dangerous place for you, starting now.  I strongly suggest you get out while you can. No more coddling, no more excuses.  Your days are over." – Governor Michael J. Dunleavy
###